Elevating the benchmark for quality
The 36″ printer is engineered to deliver fast print speed with amazing print quality even on uncoated paper. Boost your productivity with improved features such as multi-function roll system, auto media type detection, remaining media estimation and custom size borderless printing.
Perfect for CAD & poster printing
Print Resolution up to 2400 x 1200 dpi
Standard with printer stand (Optional 2nd Roll Unit)
Impressive media handling system
500 GB Encrypted hard disk drive
Robust security, extensive suite of software and solutions
Wi-Fi connectivity & Direct USB printing
RSP : RM19,807.00 / unit.
Free  : 3 years on-site warranty.
Rental : RM750.00 / month.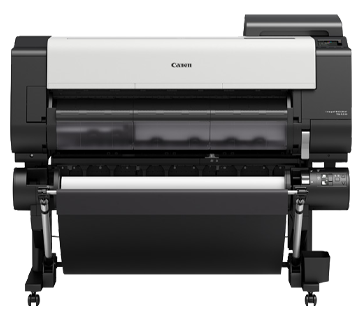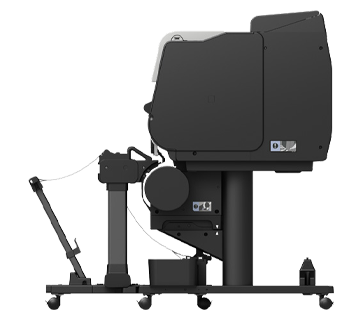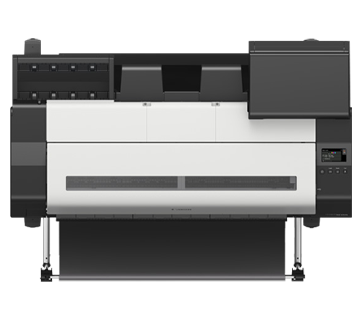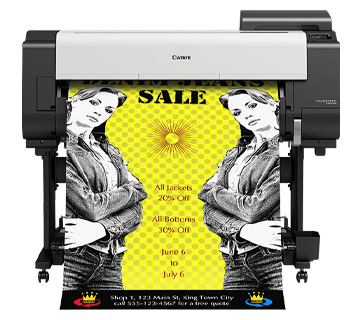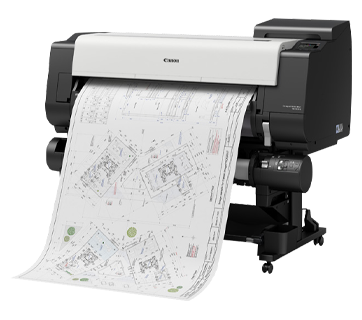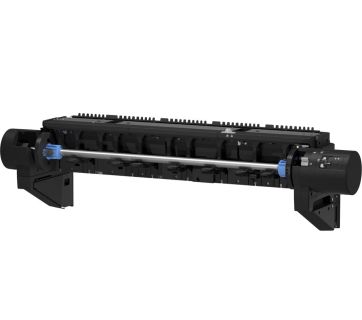 THE TX-5310 CORE TECHNOLOGIES
The TX-5310 realised faster throughput during continuous printing by optimising the pre-processing of print data, process of media cutting and media transport. Pre-print operation and print spooling have been optimised to achieve faster first print from standby or sleep mode.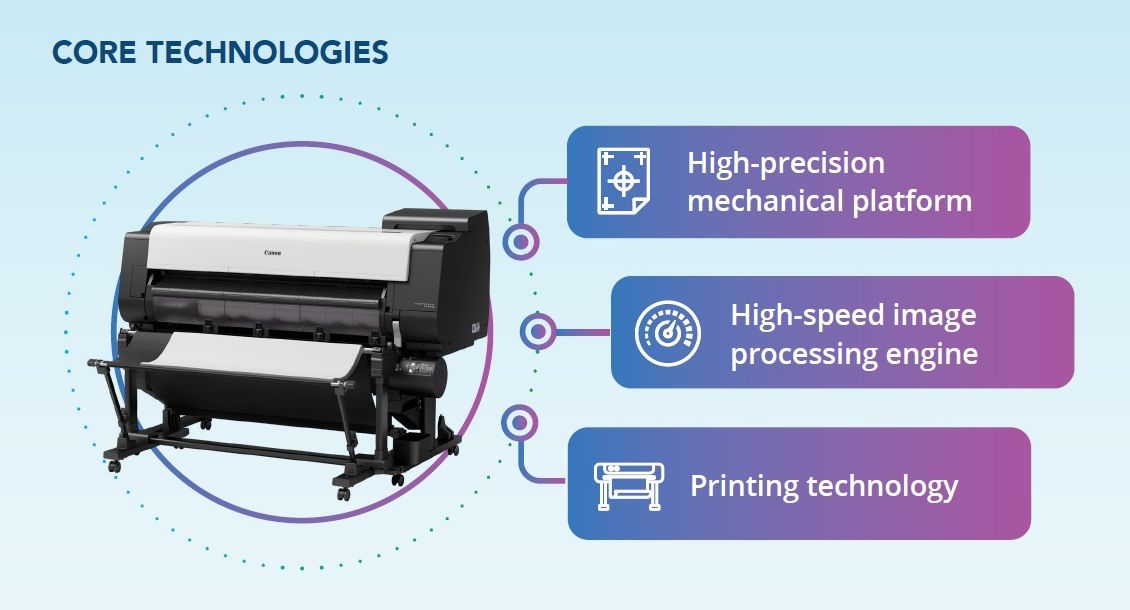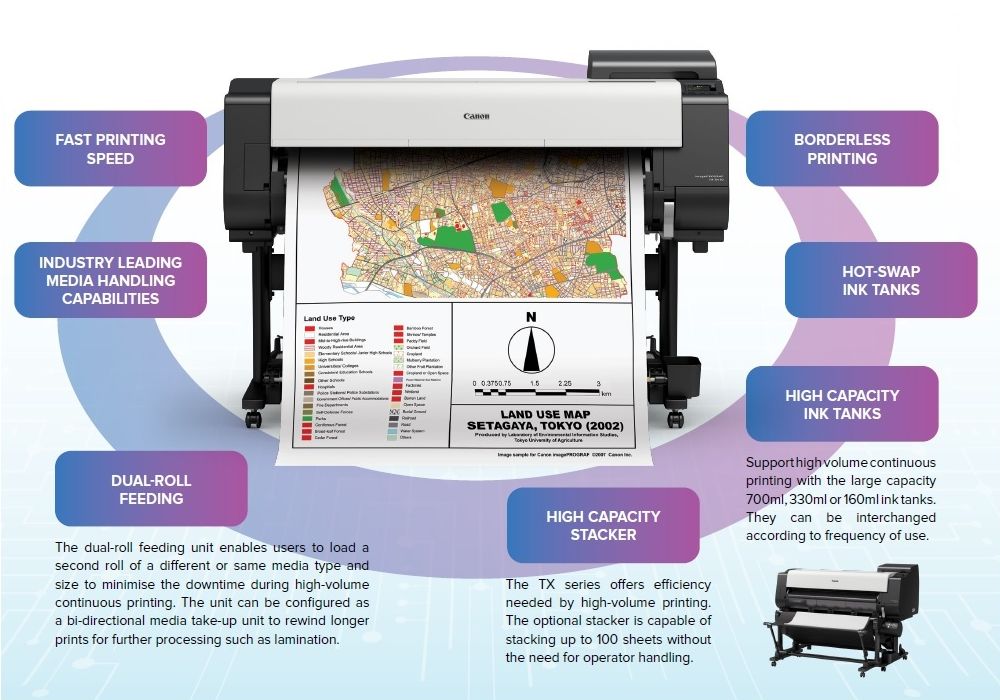 HIGH PRECISION MECHANICAL PLATFORM
The unibody structure is engineered to provide strong and stable platform, allowing print head to scan at high speed while maintaining precise ink droplet placement for high-quality print.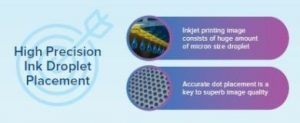 HIGH SPEED IMAGE PROCESSING ENGINE
Powered by L-COA PRO processing engine, the TX series is capable of processing massive image data and controls the optimal ink layout that produces high-resolution prints, delivering supreme quality at high speed.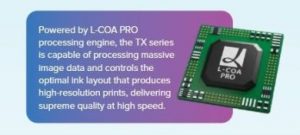 The TX series employs FINE print head, PF-06, which is 1.07 inch wide with 6-colour channels and 15,360 nozzles. The improved thermal diffusion provides better uniformity of ink density and colours, while non-firing nozzles detection will automatically compensate for nozzle blockage, ensuring best quality on every print.

The LUCIA TD 5-colour all pigment ink is developed to produce high-quality printing for a wide range of applications such as drawings and posters on plain paper, posters and graphics on coated paper and glossy paper, and printing on water-resistant poster paper.
Simultaneous use of black and matte black inks produce text and lines that are dense and crisp with minimal feathering.
The LUCIA TD ink system gives vibrant colours in poster printing. It has excellent colour fastness to minimise colour fading and exhibits superior outdoor weather resistance with water resistant media.
Simply load a roll of media on the arm. The printer detects the roll and automatically feeds the media. No manual roll feeding is required. This greatly reduces time taken for media loading and avoid staining or scratching the media surface.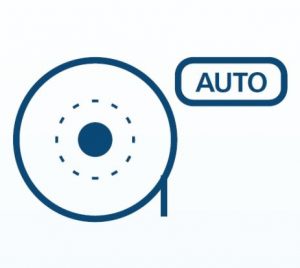 Automatic Media Type Detection
Automatically detects the media type and width with the internal database and historical media usage data in the printer. Optimum setting and adjustment to print ready status with minimal supervision.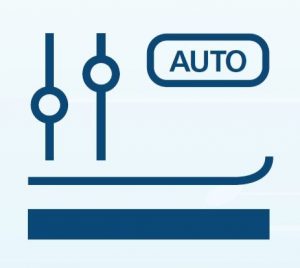 Automatic Remaining Media Estimation
Automatically estimates the remaining roll amount and gives alert when media is insufficient for the print jobs. This eliminates the need of barcode printing while saving time, paper and ink.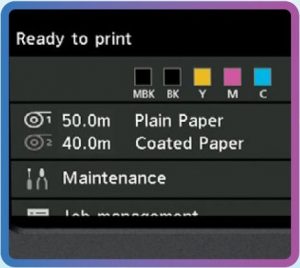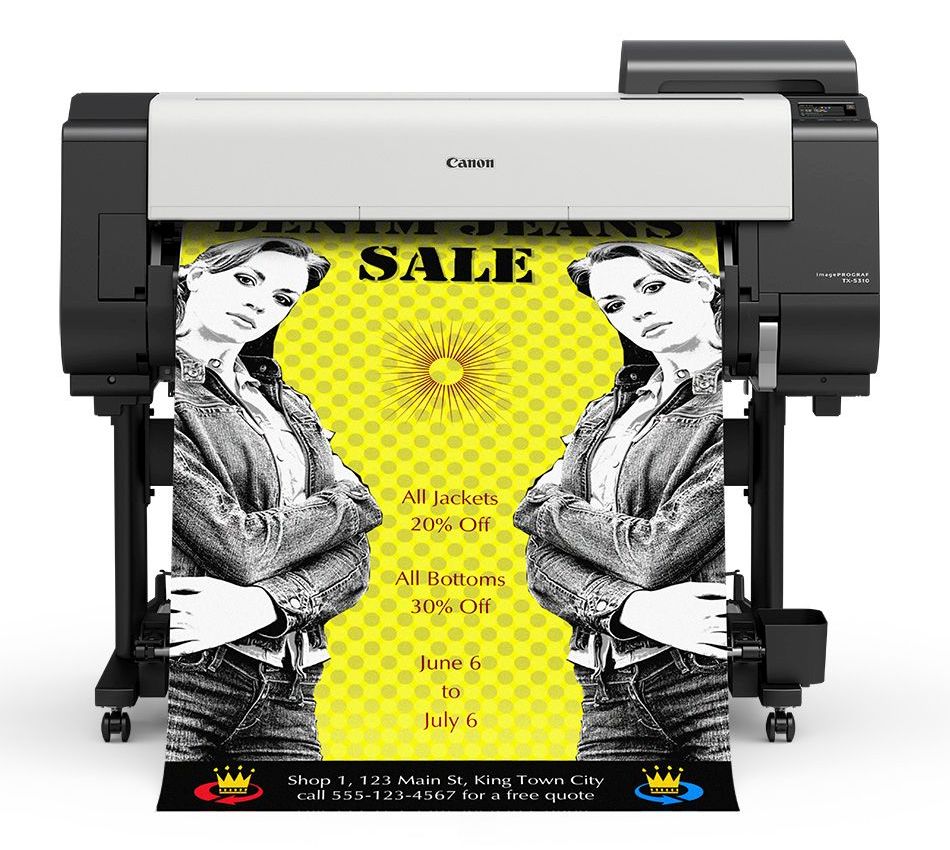 Borderless printing on standard and custom sizes is now possible for all supported media. The printer is also capable of three-sided edge-to-edge printing on various sizes that do not match the roll paper width. This allows more flexibility in borderless printing task compared to the traditional standard four-sided borderless print.
Constantly reserving ink in sub ink tanks allows users
to replace ink tanks without having to stop printing.
This eliminates downtime in continuous printing and
enables ink inside the ink tanks to be fully utilised.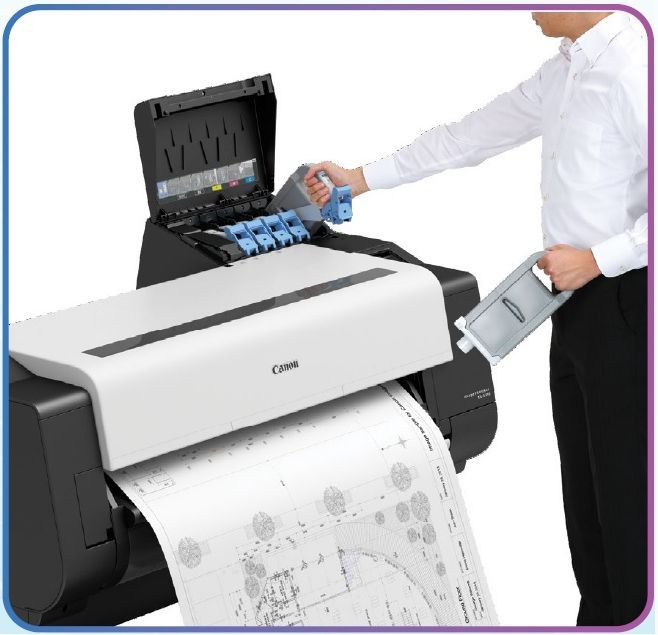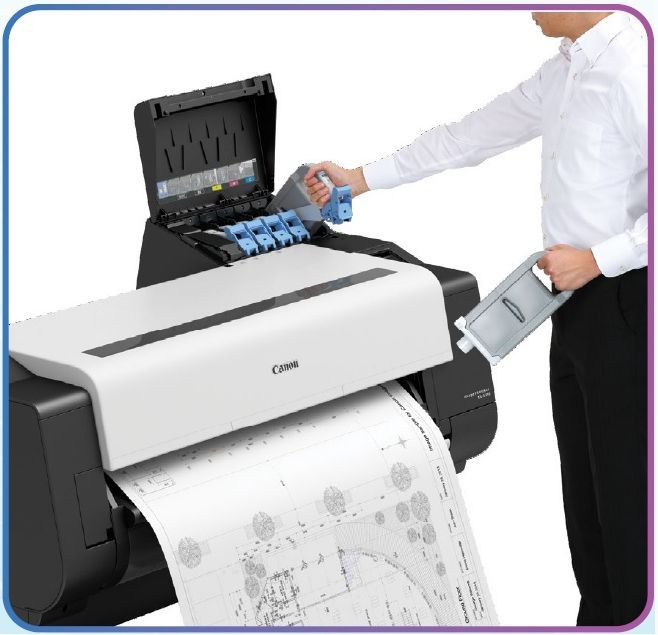 Constantly reserving ink in sub ink tanks allows users
to replace ink tanks without having to stop printing.
This eliminates downtime in continuous printing and
enables ink inside the ink tanks to be fully utilised.
MANAGING YOUR PRINT JOBS HAS NEVER BEEN EASIER
Canon software applications are designed specifically to keep each print job on track and improve your workflow and productivity.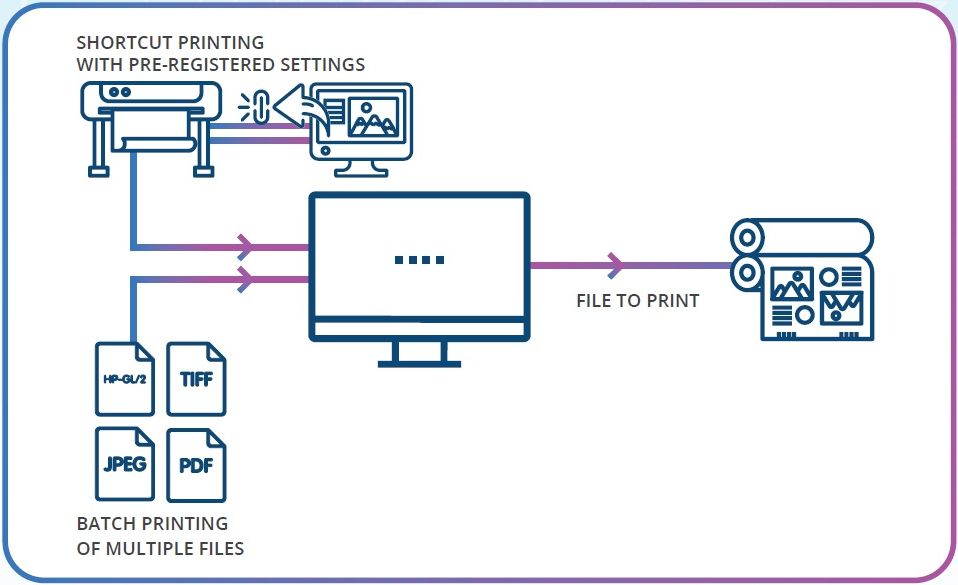 The newly developed print job submission tool makes workflow simpler and more efficient with features including shortcut printing, batch printing of multiple files, nesting and print job progress monitoring.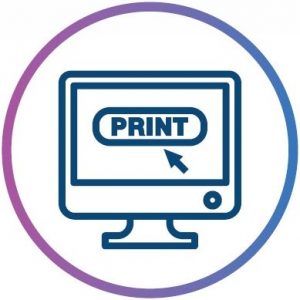 CPP DRIVER SELECT & PUBLISHER SELECT
The new TX series enable a smoother workflow integration and management for existing Canon Production Printing (CPP) users with support of CPP Driver Select and Publisher Select .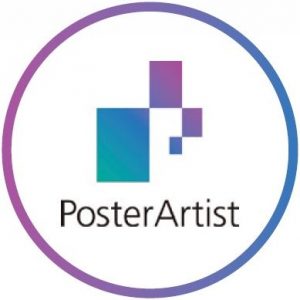 POSTERARTIST LITE
Canon's PosterArtist Lite software lets you design and print professional looking posters with over 1,300 templates, photos and clipart to suit a wide variety of business environments. Creating head turning posters or signs has never been easier.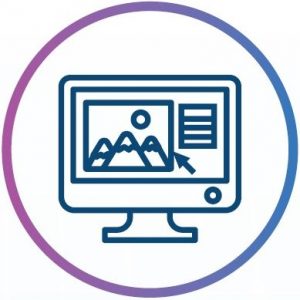 FREE LAYOUT PLUS
Free Layout plus, a print utility that allows users to tile, nest and create custom layouts before printing.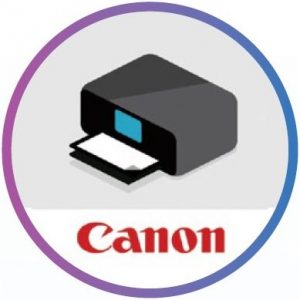 CANON PRINT INKJET/SELPHY
The Canon PRINT Inkjet/SELPHY app connects your mobile device wirelessly to TX series to print, scan and copy. It also works as a portal to manage your printer settings and monitor your printer status for a seamless printing experience.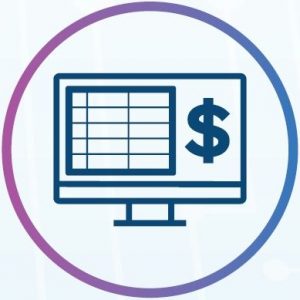 ACCOUNTING MANAGER
Accounting Manager is ideal for businesses looking to track printing costs based on the cost of media and ink.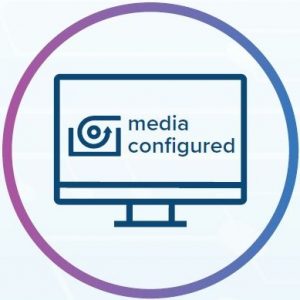 MEDIA CONFIGURATION TOOL
Simplifies media management for Canon and third party media, allowing you to customize media in both the driver and printer for optimum print result.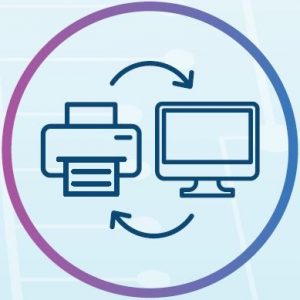 DEVICE MANAGEMENT CONSOLE
Device Management Console effectively manages multiple printers, monitoring activities such as error messages and printer information like ink status and status of calibrations.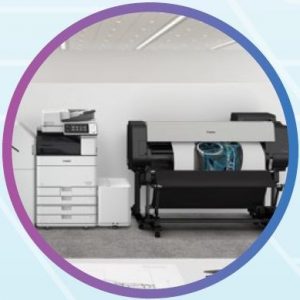 imageRUNNER ADVANCE DIRECT ENLARGEMENT COPY
Scan-to-Print using an imageRUNNER to scan images and print directly to TX series printers.
Canon imagePROGRAF TX-5310 Specifications
Printer
Printer Type
5-Colour 36″ (914 mm)
Number of Nozzles
15,360 nozzles (MBK: 5,120 nozzles; BK, C, M, Y: 2,560 nozzles each)
Maximum Print Resolution
2400 x 1200 dpi
Nozzle Pitch
1200 dpi (2 lines)
Line Accuracy*1
± 0.1% or less
Minimum Ink Droplet Size
5 pl
Ink Capacity
Sales Ink: 160 ml / 330 ml / 700 ml (MBK, BK, C, M, Y)
Bundled Starter Ink: 330 ml (MBK) / 160 ml (BK, C, M, Y)
Ink Type
Pigment Ink
Printer Language
SG Raster (Swift Graphic Raster)
HP-GL/2
HP RTL
PDF (Ver. 1.7)
JPEG (Ver. JFIF1.02)
Printing Solutions
Apple AirPrint, Direct Print Plus, Direct Print & Share, CPP Driver Select & Publisher Select, AutoCAD Optimized Printer Driver, Easy-PhotoPrint Editor, Canon PRINT Inkjet/SELPHY, Canon Print Service, Free Layout plus, PosterArtist Lite, imageRUNNER ADVANCE Direct Enlargement Copy
Management Solutions
Media Configuration Tool, Accounting Manager, Device Management Console, Quick Utility Box
Standard Interfaces (Built-in)
USB A Port:
USB Memory (Direct Print)

USB B Port (Series B, 4 pins):
Hi-Speed USB
Full Speed (12 Mbit/sec)
High Speed (480 Mbit/sec)
Bulk Transfer

Gigabit Ethernet:
IEEE 802.3 10base-T
IEEE 802.3u 100base-TX/Auto-Negotiation
IEEE 802.3ab 1000base-T/Auto-Negotiation
IEEE 802.3x Full Duplex
SNMP, HTTP, FTP, TCP/IP (IPv4/IPv6)

Wireless LAN:
IEEE802.11 b/g/n
WEP (64/128bit)
WPA-PSK (TKIP/AES)
WPA2-PSK (TKIP/AES)
Memory
Standard: 128 GB
Physical: 2 GB
Hard Disk
500 GB (Encrypted)
Print Speed*2
Plain Paper
CAD Drawings, A0
34 sec [Fast (Custom Q5)]
37 sec [Fast]
1 min 4 sec [Standard]
Poster, A0
37 sec [Fast (Custom Q5)]
42 sec [Fast]
1 min 15 sec [Standard]
Heavyweight Coated Paper HG
Poster, A0
1 min 38 sec [Fast]
2 min 33 sec [Standard]
Glossy Photo Paper HG 170
Poster, A0
2 min 59 sec [Fast]
5 min 44 sec [Standard]
Media Handling
Media Feed and Output
Roll Paper (Single)
Front Load, Front Output
Cut Sheet
Front Load, Front Output*3
Media Width (Roll / Cut Sheet)
152.4 ~ 917 mm
Media Thickness (Roll / Cut Sheet)
0.07 ~ 0.8 mm
Min. Printable Length
Roll Paper
101.6 mm*4
Cut Sheet
203.2 mm
Max. Printable Length
Roll Paper
18 m*5
Cut Sheet
1.6 m
Maximum Outer Roll Diameter
170 mm or less
Borderless Printing Width
(Roll paper only)
152.4 ~ 917 mm
Margins (Recommended Area)
Roll Paper
Top: 20 mm, Bottom: 3 mm, Side: 3 mm
Cut Sheet (Apple AirPrint)
Top: 20 mm, Bottom: 31 mm, Side: 3 mm
Cut Sheet (Others)
Top: 20 mm, Bottom: 20 mm, Side: 3 mm
Margins (Printable Area)
Roll Paper
Top: 3 mm, Bottom: 3 mm, Side: 3 mm
Roll Paper (Borderless Print)
Top: 0 mm, Bottom: 0 mm, Side: 0 mm
Cut Sheet (Apple AirPrint)
Top: 3 mm, Bottom: 12.7 mm, Side: 3 mm
Cut Sheet (Others)
Top: 3 mm, Bottom: 20 mm, Side: 3 mm
Dimensions & Weight*6
Dimensions (W x D x H)
Main Unit + Roll Unit + Stand + Basket
1390 x 984 x 1168 mm (Basket Open)
1390 x 766 x 1168 mm (Basket Closed)
Main Unit + Roll Unit + Stand + Stacker
1390 x 1188 x 1168 mm (Basket Open)
1390 x 1122 x 1168 mm (Basket Closed)
Roll Unit
1374 x 336 x 318 mm
Weight
Main Unit + Roll Unit + Stand + Basket
124 kg
Main Unit + Roll Unit + Stand + Stacker
136 kg
Roll Unit
19 kg
Packaged Dimensions (W x D x H)
Main Unit + Stand + Basket + Pallet
1606 x 903 x 1061 mm
Stacker
1249 x 906 x 291 mm
Roll Unit
1524 x 562 x 461 mm
Packaged Weight
Main Unit + Stand + Basket + Pallet
153 kg
Stacker
24 kg
Roll Unit
26 kg
Power & Operating Requirements
Power Supply
AC 100 – 240 V, 50 – 60 Hz
Power Consumption
Printing
115 W or less
Sleep Mode
2.0 W or less
Power Off
0.3 W or less
Operating Environment
Temperature
15 ~ 30 ℃
Humidity
10 ~ 80 % RH (no dew condensation)
Acoustic Sound
Acoustic Power*7
Operation: Approx. 69 dB
Acoustic Pressure*7
Operation: Approx. 51 dB (A)
Standby: 35 dB (A) or less
Accessories
Roll Unit (Required)
RU-32
Stacker (Optional)
SS-31
2″/3″ Roll Holder (Optional)
RH2-34
Consumables
Print Head
PF-06
Cutter Blade
CT-07
Maintenance Cartridge
MC-30
Ink Tank
PFI-8110 (160 ml) / PFI-8310 (330 ml) / PFI-8710 (700 ml)
Matte Black / Black / Cyan / Magenta / Yellow
*1 User adjustments is required. Printing environment and media must match those used for the adjustments. Paper required: Plain paper, CAD tracing paper, coated paper, CAD translucent matte film only.
*2 Time taken to print one page, does not include time required for data processing, data transfer and pre-printing operations.
*3 Manual feed using media locking lever.
*4 For cloth, canvas, tracing paper and translucent matte film media, minimum printable length is 200 mm.
*5 Varies according to the OS and application.
*6 Include roll holder set, exclude ink and print head.
*7 Measured using ISO 7779 standard by using 36 inch plain paper, standard mode and line drawing / text mode.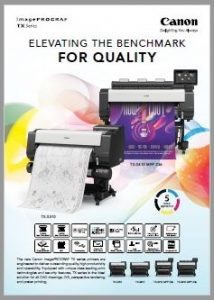 Product Catalogue PDF file : 
CANON Large Format Printer imagePROGRAF TX5310 Brochure 
2.71MB
(You need to install Acrobat Reader to open the PDF files.)