imagePROGRAF TX-5400 MFP T36
The Professional Large Format System
The 44″ multi-functional printer is designed to enable printed output superbly detailed and vibrant in blazing speed. From printing posters to point-of-sale materials or to CAD drawings, this printer gains a competitive advantage with a host of productivity features such as dual roll feeding or take-up unit, high-capacity stacker and auto roll loading and switching.
36″ scanner with 13/6 in per second (B&W/Color)
15.6″ touch panel AIO PC with SmartWorks MFP Software
Dual front loading paper roll system
Printing Resolution : 2400 dpi x 1200 dpi
Scanner Resolution : 1200 dpi
Wifi connectivity
Direct USB Printing
RSP : RM51,500.00 / unit.
Free  : 3 years on-site warranty.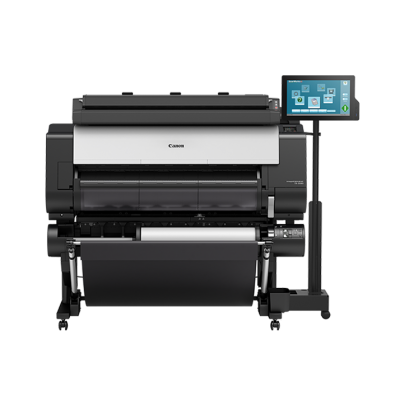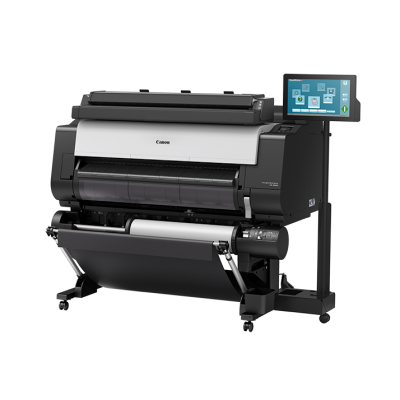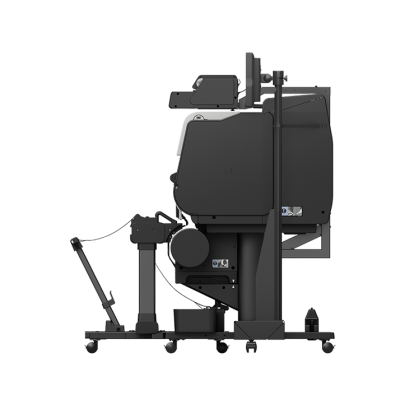 THE TX-SERIES CORE TECHNOLOGIES
The TX series is an embodiment of print technology of the highest order. Employing high-precision mechanical platform and high-speed processing engine, together with the latest FINE print head and new LUCIA TD ink, the TX series deliver stunning prints of the finest details and excellent colour expression in breaking speed.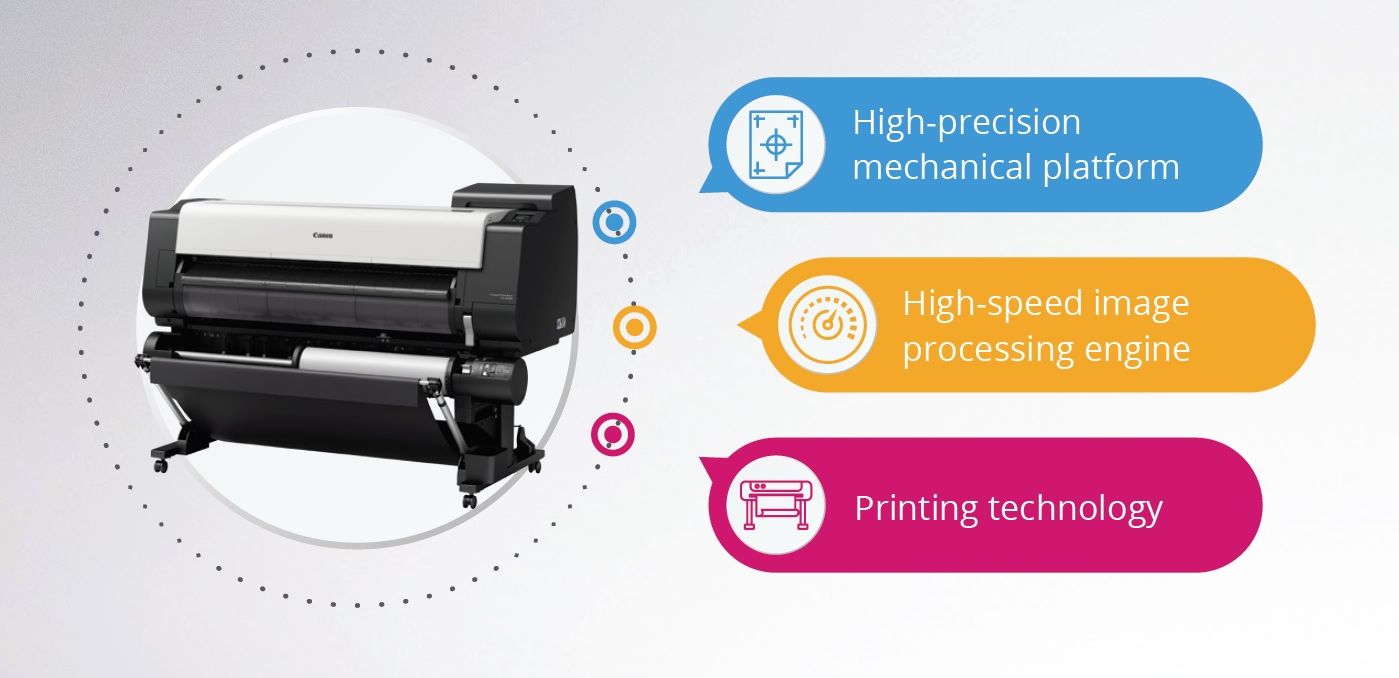 HIGH PRECISION MECHANICAL PLATFORM
The newly engineered unibody structure provides a strong platform for stable print head scanning, resulting in precise droplet placement. The perfect combination of speed and high-quality printing is achieved with this new design.

HIGH SPEED IMAGE PROCESSING ENGINE
The L-COA PRO processing chips forms a high-precision control engine that performs the processing of massive image data, generates the printing data, and controls the optimal ink layout that produces high-resolution prints, delivering supreme print quality at high speed.
The TX series Print Technology uses new LUCIA TD pigment ink which produces excellent quality in fine lines reproduction and sharp text in drawings on both coated and uncoated paper.
The all-pigment LUCIA TD ink realizes high density of black and minimizes bleeding by using two types of black ink simultaneously.

The new LUCIA TD ink system gives vibrant colors in poster printing, has excellent color fastness to minimize color fading and even has great outdoor weather resistance with water resistant media.
TX series employs a newly developed FINE print head, PF-06, which is a 1.07 inch, 6-color channels with 15,360 nozzles. This newly developed printhead gives excellent quality through improved uniformity of ink density and colors. Fast, vibrant poster printing is possible even on inkjet plain paper.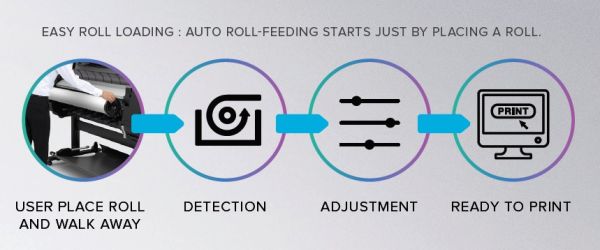 AUTOMATIC MEDIA ROLL LOADING
A breakthrough in Canon technology
where media can simply "be placed"
on the roll holder and media will
automatically be loaded into the machine.
In Canon, we call it the "oku-dake"
(put only) technology whereby this
automatic media roll loading will save
you time and make it error and fuss free.
AUTOMATIC MEDIA ROLL LOADING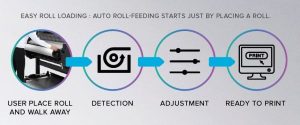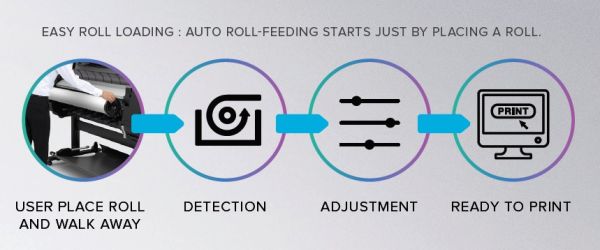 A breakthrough in Canon technology
where media can simply "be placed"
on the roll holder and media will
automatically be loaded into the machine.
In Canon, we call it the "oku-dake"
(put only) technology whereby this
automatic media roll loading will save
you time and make it error and fuss free.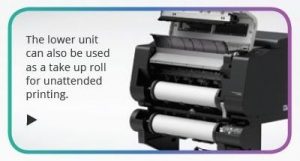 In the TX series, high volume printing
can now be achieved by loading up to 2
(TWO) 200m – length of plain paper. It
also allows for switching between media
for various printing applications either
in different media types or sizes to have
seamless and efficient printing.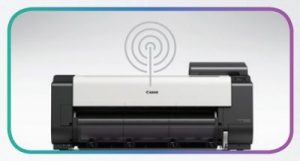 Wireless networking in office
environments is easy and trouble-free,
which is convenient when connecting
from multiple computers. With no need for
a wired connection, users enjoy greater
freedom in installation,
with fewer restrictions.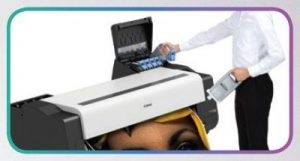 Even if the ink tanks run out of ink,
the printers keep some ink in
reserve sub-ink tanks, which is used
automatically as needed to enable ink
tank replacement during printing. Not
only does this prevent downtime in
continuous printing, it makes it easy to
use all ink in the tanks, which can help
cut costs.
imagePROGRAF MFP SOLUTION
EXCELLENT VISIBILITY & OPERABILITY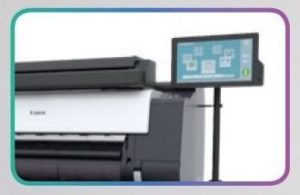 TX MFP solution incorporates an
all-in-one computer featuring a
generous 15.6" touchscreen panel.
Tasks such as previewing scanned
images or doing editing work are
easy, with simple, intuitive operations;
so that you can check the image in
detail before printing.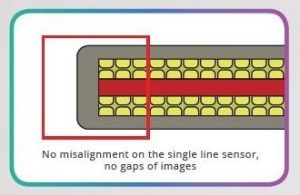 SingleSensor technology provides
high-quality scanned image. As a
single line sensor covers full width
to scan, edge of small texts and
thin lines can be sharply and clearly
reproduced, without misalignment
between sensors.
ABUNDANT IMAGE ENHANCEMENT FEATURES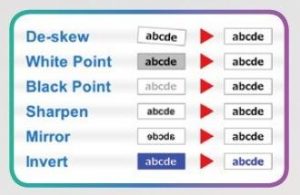 Abundant image enhancement
features are incorporated such as
de-skew, white point, color reversal
of diazo print and restoration of
deteriorated original images, which
is useful for archiving old drawings.
HIGH-QUALITY IMAGE SCANNING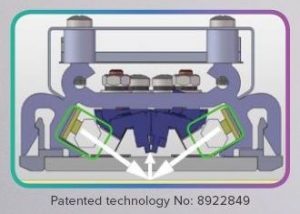 Bi-directional illumination from dual
LED arranged on the right and left
of the sensor reduces shadowing at
creases or folds. High quality
scanned image can be obtained.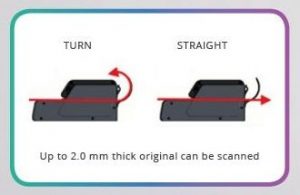 Front entry and rewind to front
path (u-turn like), which is often used
for regular scanning of plain paper
document. Straight path of front
entry to rear exit makes it possible to
scan documents up to 2.0 mm thick.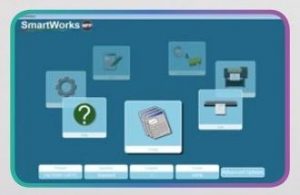 The MFP solution can be used with
SmartWorks MFP, scanning software
that simplifies large-format scanning or
copying with intuitive operations on the
touchscreen display; even unskilled or
inexperienced users.
SECURITY
The TX series complies with the Advanced Encryption Standard, 256-bit, as was established by the U.S. National Institute of Standards and Technology, or NIST.

The self-encrypting hard disk automatically encrypts and decrypts image data as it is saved or printed and does not add to the processing load of print jobs.

Encrypting all data on the disk minimizes the risk of leaks in the case of theft. In this way, strict print data confidentiality is maintained, which gives users peace of mind in printer management.

In summary, the TX series meets security requirements in each area of secure communication, secure storage, secure interfaces, and secure management.
Quick Utility Toolbox is home to all Canon imagePROGRAF TX Series printer software and tools.
In today's printing environment,
it is more important than ever to understand
how much each print job is costing your
business. Compatible with both Mac and
Microsoft platforms, Accounting Manager
serves as a powerful feature used for
accurately managing your print costs. With
Accounting Manager,
you can track how much ink and paper
is being consumed on printing with up
to 50 printers.
DEVICE MANAGEMENT CONSOLE
The Device Management Console
software, is ideal for fleet management.
This software lets you monitor the printer
status of up to 50 printers from any location
in the world, be notified by email when an
error occurred, or check the amount of ink
left in the printers without ever having
to leave the comfort of your desk.
Recognising the expanding array of
media options for large format printers and
to further improve the versatility of these
new imagePROGRAF models, Canon has
developed a Media Configuration Tool,
which allows customers to not only utilise
Canon-branded media, but providing
them the ability to make adjustments to
printer settings to enhance the precision
and quality of output achieved with
custom media.
This software enables to batch print multiple files of different types such as PDF, JPEG, TIFF and HP-GL/2, without starting up the dedicated applications. In addition, the shortcut printing function can be used to perform printing according to preregistered print settings such as outputting printer, print quality, paper type and paper size, simply by dragging & dropping the files to be printed to the shortcut folder.
Saved files can also be uploaded to cloud storage and shared among remote locations or across multiple sites.
CANON imagePROGRAF TX-5400 MFP Specifications
PRINTER
Printer Type
5 colour 44″
Number of Nozzles
15,360 nozzles: (MBK 5,120 nozzles, BK, C, M, Y 2,560 nozzles each)
Print Resolution
2400 dpi x 1200 dpi
Nozzle Pitch
1200 dpi (2 lines)
Line Accuracy
+/- 0.1% or less
Ink Droplet Size
5 Picoliter
Ink Capacity
160ml/330ml/700ml: Bundled Starter Ink : 330ml (MBK)/ 160ml (Bk, C, M, Y)
Ink Type
Pigment inks/5 color – MBK/BK/C/M/Y
Printer Languages
SG Raster (Swift Graphic Raster), HP-GL/2, HP RTL , PDF (Ver.1.7), JPEG (Ver. JFIF 1.02)
Standard Interfaces
USB B Port: Built in (Hi-Speed USB ), Full Speed (12 Mbit/sec), High Speed (480 Mbit/sec), Bulk transfer, Series B (4 pins); USB A Port: USB Memory Direct Print
Gigabit Ethernet: IEEE 802.3 10base-T, IEEE 802.3u 100base-TX / Auto-Negotiation, IEEE 802.3ab 1000base-T/ Auto-Negotiation, IEEE 802.3x Full Duplex
Wireless LAN: IEEE802.11n/ IEEE802.11g/ IEEE802.11b
Memory
Standard memory: 128GB (Physical memory 2GB)
Hard Disk
500GB (Encrypted)
PRINTING SPEED (A0 SIZE)
Plain Paper (CAD Drawings)
00:37 Fast (Custom Q5)
00:40 Fast
01:10 Standard
Heavyweight Coated paper HG (CAD Drawings)
00:45 Fast (Custom Q5)
01:11 Fast
02:16 Standard
Plain Paper (Poster)
00:42 Fast (Custom Q5)
00:42 Fast
01:26 Standard
Heavyweight Coated paper HG (Poster)
01:43 Fast
02:37 Standard
MEDIA HANDLING
Media Width
Roll paper: 203.2 ~ 1118mm, Cut sheet: 203.2 ~ 1118mm
Media Thickness
Roll paper / Cut: 0.07 ~ 0.8mm
Minimum Printable Length
203.2 mm
Maximum Printable Length
Roll paper: 18 m, Cut sheet: 1.6 m
Maximum Media Roll Outer Diameter
170 mm
Paper Feed Method
Roll Paper: One Roll, Front-loading, Front Output; Added Roll Paper: One Roll, Front-loading, Front Output; Cut Sheet: Front-loading, Front Output (Manual feed using media locking lever)
Media Take-up Unit
Dual directions rolling take-up
Borderless Printing Width (Roll Only)
594mm (ISO A1), 841mm (ISO A0), 10", 14", 17", 24", 36", 42", 44"
Media Output (Multiposition Basket)
Standard position: 1 sheet, Flat position: A2 landscape [<10 sheets glossy paper; <20 sheets coated or plain paper]
Media Output (High Capacity Stacker)
Standard Basket: 10 sheets, Flat Position: 100 sheets (A1 Landscape), Draped Position: 100 sheets (A0 Portrait)
DIMENSIONS & WEIGHT
Packaged Dimensions
W x D x H (mm) / Weight (kg)
Printer (with stand and pallet)
1820 x 915 x 1061 mm, Weight : 165kg
High Capacity Stacker
1464 x 906 x 291 mm, Weight : 25kg
Roll Unit
1727 x 562 x 461 mm, Weight : 30kg
Physical Dimensions
W x D x H (mm) / Weight (kg) (including Roll
Holder Set and Roll unit, excluding ink and
print head)
Main Unit + Stand + Basket
Basket Opened: 1593 x 984 x 1168 mm
Basket Closed: 1593 x 766 x 1168 mm
114 kg (including Roll Holder Set, excluding ink and print head)

Main Unit + Roll Unit + Stand +
High Capacity Stacker
Stacker Opened: 1593 x 1188 x 1168 mm
Stacker Closed: 1593 x 1122 x 1168 mm
146 kg (including Roll Holder Set, excluding ink and print head)
POWER AND OPERATING REQUIREMENTS
Power Supply
AC 100-240V (50-60Hz)
Power Consumption
Operation: 105W or less, Sleep mode: 3.6W or less, Power off : 0.3W or less
Operating Environment
Temperature: 15~30°C, Humidity: 10~80% RH (no dew condensation)
Acoustic Noise
Power :-
Operation: 6.9 Bels or less
Pressure :-
Operation: 51dB (A) or less; Standby: 35dB (A) or less
OPTIONS
Roll Unit
RU-42
High Capacity Stacker
SS-41
2/3" Roll Holder
RH2-45
CONSUMABLES
Ink Tank
PFI-8110 (160ml) / PFI-8310 (330ml) / PFI-8710 (700ml)
Print Head
PF-06
Cutter Blade
CT-07
Maintenance Cartridge
MC-30
SCANNER
Scan Width
36" (914mm)
Min Scan width
6" (150mm)
Max Scan length
8m (JPEG/PDF); 15.2m (TIFF)
Scan Speed (Color/B&W)
6.0/13 ips
Optical Resolution
1200dpi
Max Document Thickness
2.0mm
PC & Software Included
15.6" AIO PC with SmartWorks MFP Software
Software Features
Scan, Copy, Print. Preview Edit. PDF, PDF/A, Multipage PDF. User Accounts, job log. Collated sets. Custom paper sizes. Adjust JPEG compression.
Dimensions W x D x H (mm) / Weight (kg)
1109 x 367 x 161mm, Weight : 15kg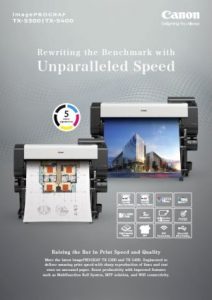 Product Catalogue PDF file : CANON Large Format Printer imagePROGRAF TX5400 Brochure 6.78MB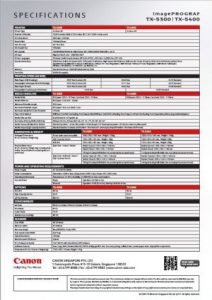 Product Specifications PDF file : CANON Large Format Printer imagePROGRAF TX5400 Specifications 1.3MB
(You need to install Acrobat Reader to open the PDF files.)