Performance in A Whole New Dimension
The TM-5305 allows you to enjoy high-speed, accurate printing complete with vivid colours, high security, ease of use, complete with hard disk, all in silence.
36″ Printer with Printer Stand
3-inch flat panel touchscreed display
Front loading paper roll system
Printing Resolution : 2400 dpi x 1200 dpi
Direct USB Printing
Wifi connectivity
RSP : RM16,789.00 / unit.
FREE : 3 years on-site warranty.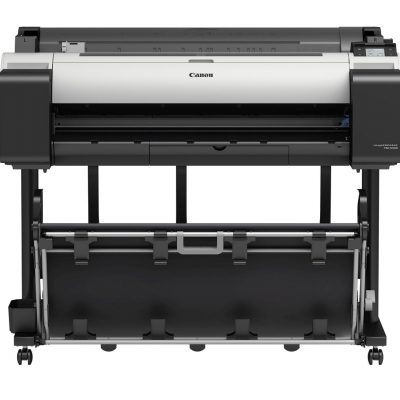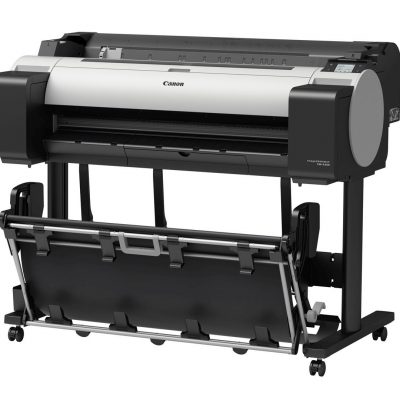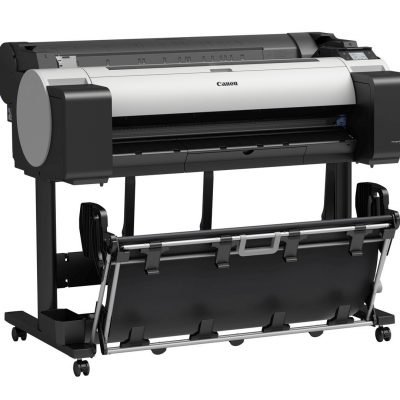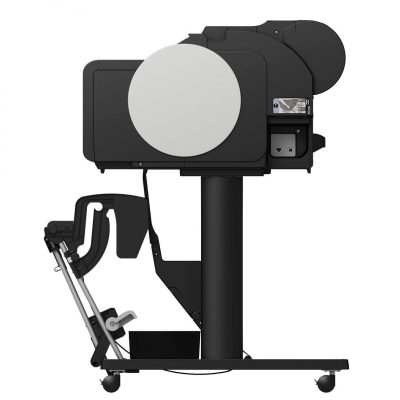 Canon TM-5305 imagePROGRAF 36″ printer features Pigment Ink Technology for UV and Water resistant printing.
Canon's new TM series for the first time brings Canon LUCIA ink to the CAD and technical printing market and expands the use of their entry level line up in to the graphics market, ideal for POS applications LUCIA ink offers UV resistance and the added advantage of water resistant prints when used with appropriate medias. Ideal for taking building plans on site or for short term outdoor poster displays or longer term in store window advertising.
Canon imagePROGRAF TM-5305 supplied with a stand which features a print collector all operations can be carried out from the front of the plotter including media changes by simply lifting the back cover.
Additional Info for Unique Technologies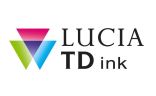 The TM Series employs the all-new five-colour pigment LUCIA TD ink which renders unparalleled detailed precision needed for CAD/GIS files even on uncoated plain paper . Realise true potential to print vibrant, weather resistant colour posters with LUCIA TD ink.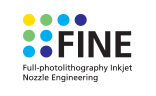 With a new 1.07- inch, 6-channel integrated FINE print head with 15,360 nozzles, the TM Series gives excellent print quality through improved uniformity of ink density and colours.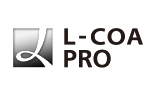 L-COA PRO Image Processing Engine
Powered by the L-COA PRO high-speed image processing chips, the TM Series delivers supreme print quality at high speeds even for big jobs.
Boost productivity by printing faster, thanks to a 6-channel optimised 1.07-inch print head.

High-quality printing with rich colour and sharp text from 5-colour, full pigment Lucia TD ink

Streamlined internal operations, including dampened fans and vibrations, means 60% less noise

A compact and integrated design, with full front usability, means little installation space

Direct Print & Share, PosterArtist Lite and Free Layout Plus support CAD and poster production.

Perfect for indoor and outdoor applications including a unique Water Resistant Media portfolio

Ease of use can be reached by the 3-inch flat panel touchscreen display
LUCIA TD 5-colour pigment ink
3-inch colour LCD touchscreen
Standard Memory 128 GB
(Physical Memory 2 GB)
LUCIA TD 5-colour pigment ink
3-inch colour LCD touchscreen
Standard Memory 128 GB
(Physical Memory 2 GB)
Print Workflow & Software Solutions
Universal Print Driver – Enables users to print from multiple TM Series devices.
Wi-fi* printing – Print mobile from anywhere in the office or from a job site.
Direct Print & Share – This software enables to batch print multiple files of different types such as PDF, JPEG, TIFF and HP-GL/2. Includes "Hot Folder" printing feature. Thumbnail preview of multiple images, fast processing, and multipage printing of PDFs are now available.
Free Layout Plus – New! Nest, tile and create custom layouts before printing your files with this print utility. Use the plug-in feature to print directly from Microsoft Office programs.
Accounting Manager – This software realizes efficient cost management of printers. Accounting Manager collects printer job logs and calculates the printing costs with ink/media usage for each print job or for a certain period. 
PosterArtist Lite – Create professional posters in four easy steps! Poster Artist Lite now supports the creation of multilingual posters and tiling with 124 templates and close to 800 images and Clipart.  An optional Poster Artist full version with additional templates, images and Clipart is also available.
Autocad® Optimized Printer Driver – AutoCAD optimized printer driver is specifically developed for Autodesk AutoCAD to enable faithful printing of drawing data created with AutoCAD.
Device Management Console – Monitor printer status such as error messages and ink levels of up to 50 printers.
Media Configuration Tool – Manage, update and arrange media information in the operation panel and printer driver.
Apple AirPrint – Print PDF files wirelessly via mobile app for Apple iPad® and iPhone®
Canon Print Service – Print PDF files wirelessly via mobile app for Android tablet and smartphone.
Easy Photoprint Editor – User friendly software  that allows you to edit, trim and rotate your images into unique layouts and designs, including posters, calendars, collages and more – both Windows® and Mac® compatible and mobile-friendly!
* Wireless printing requires a working network with wireless 802.11b/g or 802.11n capability. Wireless performance may vary based on terrain and distance between the printer and wireless network clients.
Canon imagePROGRAF TM-5305 Specifications
PRINTER
Printer Type
5 Colour 36″
Number of Nozzles
15,360 nozzles (MBK: 5,120 nozzles; BK, C, M, Y 2,560 nozzles each)
Print Resolution (Max)
2400 x 1200 dpi
Nozzle Pitch
1200 dpi (2 lines)
Line Accuracy
± 0.1 % or less
Ink Droplet Size
Minimum 5 Picoliter per colour
Ink Capacity
130ml/300ml (MBK, BK, C, M, Y);
Bundled Starter Ink: 130ml (MBK)/ 90ml (BK, C, M, Y)
Ink Type
Pigment inks / 5 colour MBK, BK, C, M, Y
Printer Languages
SG Raster (Swift Graphic Raster), HP-GL/2, HP RTL, PDF (Ver 1.7), JPEG (Ver JFIF1.02)
Standard Interfaces
USB B Port
Built in (High-Speed USB), Full Speed (12 Mbit/sec),
High Speed (480 Mbit/sec), Bulk Transfer, Series B (4 pins);
USB A Port
USB Memory (Direct Print)
Gigabit Ethernet
Built in, IEEE 802.3 10base-T, IEEE 802.3u 100base-TX/Auto-Negotiation,
IEEE 802.3ab 1000 base-T/ Auto-Negotiation, IEEE 802.3x Full Duplex,
SNMP (Canon-MIB, HTTP, TCP/IP (IPv4/IPv6), ftp;
Wireless LAN
IEEE802.11n/ IEEE 802.11g/ IEEE 802.11b, WEP (64/128bit),
WPA-PSK (TKIP/AES), WPA2-PSK (TKIP/AES)
Memory
Standard Memory 128 GB
(Physical Memory 2 GB)
Hard Disk
500 GB
PRINTING SPEED (AO SIZE)
Plain Paper (CAD Drawings)
00:40 Fast (Custom Q5)
00:48 Fast
01:14 Standard
Heavyweight Coated Paper HG (CAD Drawings)
00:47 Fast (Custom Q5)
01:11 Fast
02:18 Standard
Plain Paper (Poster)
00:44 Fast (Custom Q5)
00:44 Fast
01:18 Standard
Heavyweight Coated Paper HG (Poster)
01:41 Fast
02:36 Standard
MEDIA HANDING
Media Width
Roll Paper / Cut Sheet: 203.2~917mm
Media Thickness
Roll Paper / Cut Sheet: 0.07~0.8mm
Minimum Printable Length
Roll Paper: 203.2mm,
Cut Sheet: 279.4mm
Maximum Printable Length
Roll Paper: 18m (Varies according to the OS and application),
Cut Sheet: 1.6m
Maximum Media Roll Outer Diameter
150mm or less
Paper Feed Method
Roll Paper: One Roll, Upper-loading, Front Output;
Cut Sheet: Upper-loading, Front Output
(Manual feed using media locking lever)
Borderless Printing Width (Roll Only)
Recommended
515mm (JIS B2), 728mm (JIS B1), 594mm (ISO A1),
841mm (ISO A0), 10″, 14″, 17″, 24″, 36″
Printable
257mm (JIS B4), 297mm (ISO A3),
329mm (ISO A3+), 420mm (ISO A2),
8″, 12″, 16″, 20″, 30″, 300mm, 500mm, 600mm, 800mm
Media Output (SD-32)
Standard Position: 1 Sheet,
Folding Position: 20 sheets on A1 portrait and A0 portrait,
Flat Position: 20 sheets on A1 landscape and A2 landscape
DIMENSIONS & WEIGHT
Packaged DimensionsW x D x H (mm) / Weight (kg)
Printer (Main Unit with Stand and Pallet)
1462 x 913 x 961mm, Weight: 105kg
Physical DimensionsW x D x H (mm) / Weight (kg)
Main Unit + Stand + Basket
Basket Opened: 1289 x 887 x 1060mm
Basket Closed: 1289 x 757 x 1060mm
Weight: 60kg (including Roll Holder Set, excluding ink and print head)
POWER AND OPERATING REQUIREMENTS
Power Supply
AC 100-240V (50-60Hz)
Power Consumption
Operation: 69W or less;
Sleep Mode: 3.6W or less;
Power Off : 0.3W or less
Operating Environment
Temperature: 15ºC~30ºC,
Humidity: 10%~80% RH (no dew condensation)
Acoustic Sound
Acoustic Power
Operation: 6.0 Bels (Plain paper, line drawing, standard mode)
(Measured on ISO7779 standard)
Acoustic Pressure
Operation: 44dB(A) (Plain paper, line drawing, standard mode)
Standby : 35dB(A) or less
(Measured on ISO7779 standard)
OPTIONS
2/3″ Roll Holder
RH2-35
CONSUMABLES
Ink Tank
PFI-8120 (130ml) / PFI-8320 (300ml)
Print Head
PF-06
Cutter Blade
CT-08
Maintenance Cartridge
MC-31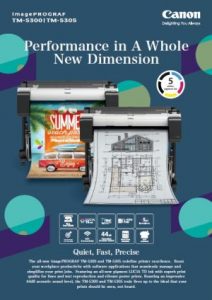 Product Catalogue PDF file : 
CANON Large Format Printer imagePROGRAF TM5305 Brochure
1.44MB
(You need to install Acrobat Reader to open the PDF files.)