Canon A4 Size Colour Multi-Function Copier - iR C1325
A Touch Of Colour. A Splash Of Brilliance.
This A4 colour multi-function copier is designed for cost conscious businesses that require productive high quality colour communication for small workgroups.
Print, copy, scan, and send functionality
Colour and B&W output at 25 ppm
Mobile printing and scanning support
3.5-inch touch and swipe colour LCD display
Easy to change consumables
RSP : RM8,182.00 / unit.
FREE : 1 year on-site warranty.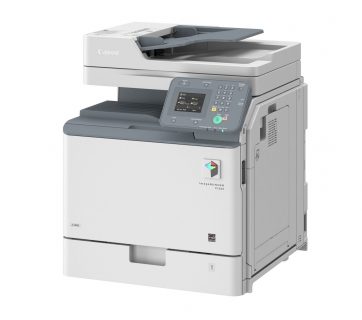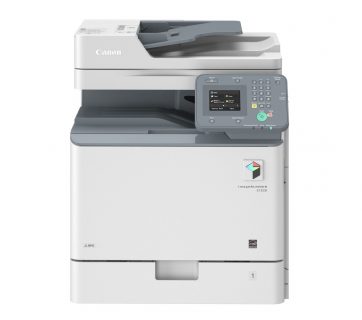 Intuitive Features, Optimized Workflow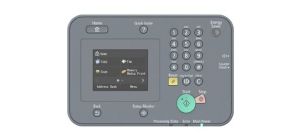 The imageRUNNER C1325 boosts a tiltable 3.5 inch full colour touch panel with intuitive menus, where the device can be recovered with just one touch – on screen or any button. With enhanced features such as touch scrolling and tap function, operation is seamless and effortless.
Improve productivity by registering frequently used settings as shortcut buttons on your Home screen. You can easily add on, delete, re-position or even rename these buttons to your convenience.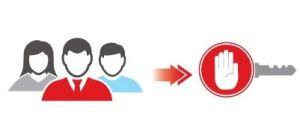 Control access rights through the use of Department ID. Reduce wastage of resources by monitoring and disabling non-required user functions for the different departments.
In addition, protect your documents from leaks with the authentication send feature where only authorised users are allowed to use the fax or scan function.
When toner levels are running low, eMaintenance will help place a re-order request directly with the relevant service centre. With its consumables management function to assist with order, you will never run out of toner again.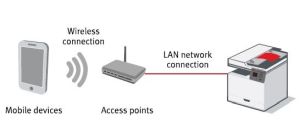 For users on the go, the versatile iR C1325 provides simple mobile print functionality with features to help mobile device users print jobs from their devices. It supports a wide variety of formats including image, photo, PDF files and web pages.
Mobile users can also use the Canon Mobile Scanning for Business to scan and save data on their mobile devices, upload it to cloud storage services and send it as e-mail attachments to themselves.
*Canon Mobile Printing and Canon Mobile Scanning apps may be downloaded on iOS or android mobile devices
Canon Colour Multi-Function Digital Copier iR C1325 Specifications
Type
Colour Laser Multifunctional (Reader/Printer Separated)
Maximum Original Size
A4
Acceptable Originals
Sheet, book, and three dimensional objects (up to 2kg)
Paper Sizes
Cassette 1
A4, B5, A5, and Custom size (98.4 x 190.5mm – 216 x 355.6mm) and Envelopes (COM10 No.10, Monarch, DL, and ISO-C5)
Cassette 2 to 4
A4, B5, A5, and Custom size (98.4 x 190.5mm – 216 x 355.6mm)
Multi-Purpose Tray
A4, B5, A5, and Custom size (98.4 x 190.5mm – 216 x 355.6mm) and Envelopes (COM10 No.10, Monarch, DL, and ISO-C5)
Paper Weight
Paper Drawer
60 – 163g/m2
Multi-Purpose Tray
60 – 220g/m2
Paper Capacity
Cassette 1
550 sheets (80g/m2)
Multi Purpose Tray
100 sheets (80g/m2)
Resolution
Scan
300 x 300dpi
Copy
600 x 600dpi
Print
600 x 600dpi
Copy/Print Speed
Monochrome / Colour: 25 / 25ppm
Magnification
Copy Ratio
25 – 400% (in 1% increment)
First Copy Time
Full Colour: 10.5 seconds
Monochrome: 8.4 seconds
Warm-Up Time
From Power On
34 seconds or less
From Sleep Mode
10 seconds or less
Multiple Copies/Prints
1 to 999 copies
Memory capacity
1GB
Interface
Network
Ethernet 10Base-T / 100Base-TX / 1000Base-T (RJ-45)
Others
USB 2.0 x 2 (Host), USB 2.0 (Device), USB 1.1 (Host)
Power Supply
220 – 240V AC, 50/60Hz, 3.7A
Max Power Consumption
Maximum Power Consumption: 1.5 kW or less
When the machine is in the Sleep mode*: 1 W
When the main power switch is turned OFF: 0.1 W or less
* Depending on the system and conditions of use, these values may differ.
Toner Yield
(A4, 6% coverage)
Black: 16,500
Colour (Cyan, Magenta, Yellow): 11,500
Drum Yield
Black: 37,900
Colour (Cyan, Magenta, Yellow): 23,600
Dimensions (H x W x D)
610 x 511 x 549mm
Weight
Approx. 44kg
Installation Space (W x D)
852 x 564mm (when the multi-purpose tray is extended)
Print Specifications
PDL
UFRII (Standard), PCL5c/6 (Optional), Adobe PostScript 3 (Optional)
Resolution
600 x 600dpi
Supported OS
UFR II
Windows XP, Windows Vista, Windows 7, Windows 8, Windows Server 2003, Windows Server 2008, Windows Server 2008 R2, Windows Server 2012, Mac OSX (10.4.9 or later*)

*OS X Yosemite is currently not supported at the time of brochure production.
PCL (Optional)
Windows XP, Windows Vista, Windows 7, Windows 8, Windows Server 2003, Windows Server 2008, Windows Server 2008 R2, Windows Server 2012
Adobe PostScript 3 (Optional)
Windows XP, Windows Vista, Windows 7, Windows 8, Windows Server 2003, Windows Server 2008, Windows Server 2008 R2, Windows Server 2012, Mac OSX (10.4.9 or later*)

*OS X Yosemite is currently not supported at the time of brochure production
Network Protocol
TCP/IP (LPD / Port9100 / WSD / IPP / IPPS / SMB / FTP), IPv6, IPX/SPX (NDS, Bindery), AirPrint
Pull Scan
Network TWAIN Driver (75 – 600 dpi 24bit colour / 8bit grayscale / 2bit Black & White)
Send Specifications
Scan Speed (A4, 300 dpi)
Black & White / Colour: 51 ipm
Scan Resolution
300 x 300dpi
Destinations
Email (SMTP), PC Network Folders (SMB, FTP)
Standard File Format
PDF
PDF, Searchable PDF, Compact PDF, Compact & Searchable PDF
Others
TIFF, JPEG
Optional File Format
(Send PDF Security Feature Set-E1)
PDF
Device Signature PDF, User Signature PDF
Automatic Document Feeder
Size of Originals
A4, B5, A5 and B6
Original Paper Weights
One-sided originals*
50 – 105g/m2
Two-sided originals
64 – 105g/m2
* When scanning only one sheet of paper, originals from 50 to 128 g/m2 are supported.
Tray Capacity
50 sheets (80 g/m2)
Original Scanning Speed
Copying:
1-sided scanning: 15 sheets/minute (A4 in Black-and-White/Full Colour at 300 x 600 dpi)

Scanning:
1-sided scanning: 25 sheets/minute (A4 in Black-and-White/Full Colour at 300 x 300 dpi)
Optional Accessories
Cassette Feeding Unit-AJ1
Paper Sizes
A4, B5, A5, and Custom size 98.4 x 190.5 mm to 216 x 355.6 mm
Paper Capacity
550 sheets (80 g/m2) x 1
Power Source
From the main unit
Power Consumption
Approx. 25W
Dimensions (H x W x D)
425 x 511 x 508mm
Weight
Approx 15kg
Cassette Feeding Unit-AK1
Paper Sizes
A4, B5, A5, and Custom size (98.4 x 190.5 – 216 x 355.6mm)
Paper Capacity
550 sheets (8 g/m2) x 3
Power Source
From the main unit
Power Consumption
Approximately 35W
Dimensions (H x W x D)
425 x 511 x 508mm
Weight
Approx. 19kg
Other Accessories And Supplies
Copy Card Reader-F1, Card Reader Attachment-H1, Super G3 FAX Board, Cassette Heater Unit-39, FL Cassette-AV1, Copy Control Interface Kit-A1, ADF Access Handle-A1, PCL Printer Kit-AZ1, PS Printer Kit-AZ1, Barcode Printing Kit-D1, USB Direct Print (PDF)-K1, NPG-65 Drum Unit K/C/M/Y, NPG-66 Toner K/C/M/Y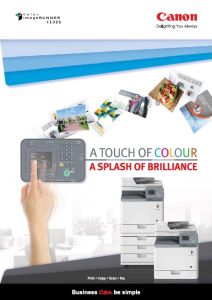 Product Catalogue PDF file : CANON Colour Multi-Function Digital Copier iR C1325 4.94MB
(You need to install Acrobat Reader to open the PDF files.)