Document Scanner imageFORMULA DR-C225II
UNIQUE ULTRA-SLIM DESIGN AND EFFORTLESS SCANNING
Scanning made easier with the super-compact and intelligent imageFORMULA DR-C225 II – ideal for small office and counter-top environments. 
30-sheets capacity ADF
25 ppm / 50 ipm
Suggested daily volume of 1,500 scans a day
RSP : RM2,911.00 / unit.
FREE : 1 year on-site warranty.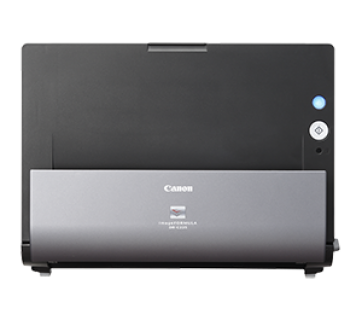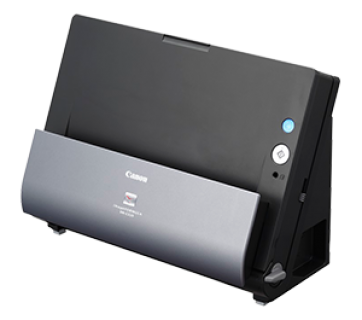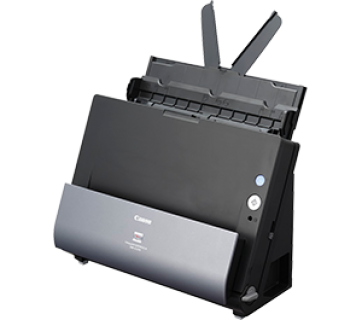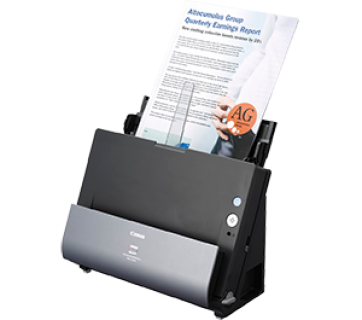 Slim profile, unique design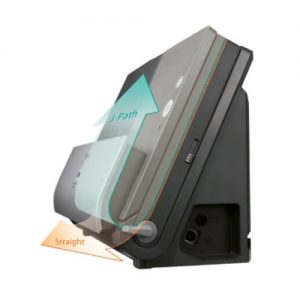 With its innovative and spacesaving vertical J-Path design the DR-C225 II sets the standard for ultra-compact desktop scanners. The vertical J-Path design allows documents to be fed and received vertically, so no extra desk space is required. Side-mounted cables and ports let you place both devices directly against a rear wall, or even on a shelf, for the ultimate in space-saving convenience.
Extremely versatile and reliable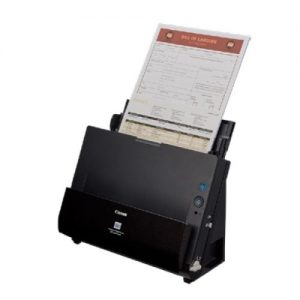 The DR-C225 II can handle a varied mix of document types. By switching the paper feeding to straight-through path you can scan A3 sized documents (in folio mode), thick documents, embossed cards and 3 metre long documents with ease.
The reliable ultrasonic Double Feed Detection feature accurately detects when more than one sheet is fed simultaneously, which can prevent important information from being lost or missed.
Simple, intuitive scanning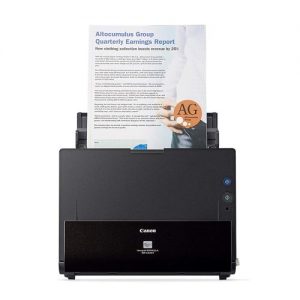 The DR-C225 II is packed with innovative features to help make the scanning process easier for users. CaptureOnTouch incorporates a Full Auto Mode function that automatically applies the best settings based on document content. With a simple one-touch scanning operation, complicated tasks can now be completed in a few seconds. Another innovative feature of the DR-C225 II is the 'face-up' document feeding option, which allows users to feed documents in their natural orientation to save valuable time.
CANON Document Scanner imageFORMULA DR-C225II / DR-C225W II Specifications
General
Bundled Software
Windows: ISIS/TWAIN driver, CaptureOnTouch, Scanner Wireless Connection Setup Tool*1, Network Monitor*1, Evernote*2, PaperPort, Omnipage, BizCard
Mac: TWAIN driver, CaptureOnTouch, Scanner Wireless Connection Setup Tool*1, Network Monitor*1, Evernote*2, BizCard, PageManager

*1 DR-C225W Only.
*2 Installed via Internet connection.
Dimensions (W x D x H)
Feed tray closed: 300 × 220 × 156 mm
Feed tray open: 300 x 336 x 235 mm
Ejection pockets
–
Interface
Hi-Speed USB 2.0

MICR
–
On-Board Jogger
–
Operating Environment
Temperature: 10°C to 32.5°C
Humidity: 20% to 80% RH
Supported Operating System
Windows/ Mac

Options / Consumables
Flatbed Scanner Unit 102 (The DR-C225W is compatible only with a USB connection.) Flatbed Scanner Unit 201(DR-C225 only), Exchange Roller Kit
Power
AC100 to 240V

Power Consumption
DR-C225:
Scanning: 12.8 W,
Sleep mode: 1.8 W,
Power Turned OFF: 0.5 W

DR-C225W:
Scanning: maximum 15.6 W,
Sleep mode: maximum 4.4 W,
Power Turned OFF: maximum 0.5 W
Weight
DR-C225: Approx. 2.6 kg
DR-C225W: Approx. 2.7 kg
Scanning Document

Feeding Method
Automatic
Document thickness – Plain Paper
U-turn path
Weight: 52 – 128 g/m2
Thickness: 0.06 – 0.15 mm

Straight path
Weight: 40 – 209 g/m2
Thickness: 0.05 – 0.25 mm
Document thickness – Postcard
Weight: 128 – 300 g/m2
Thickness: 0.15 – 0.4 mm
*PostCard can be scanned with straight path only.
Document thickness – Business Card
Weight: 300 g/m2 or less
Thickness: 0.35 mm
Document thickness – Card (ISO/IEC compliant)
0.76 mm or less

Document thickness – Passport
–
Feeding Capacity
30 sheets

Document size – Plain Paper (A4/LTR)
Width: 50.8 – 216 mm,
Length: 54 – 356 mm
Document size – Long Document Mode
Up to 3,000 mm

Document size – Postcard
Width: 89 – 108 mm,
Length: 127 – 152 mm
Document size – Business card
Width: 50 – 55 mm,
Length: 53.9 – 91 mm
(Vertical feeding only)
Document size – Card (ISO/IEC compliant)
54 x 86 mm
(Straight path and horizontal feeding only. Embossed cards can be scanned)
Document size – Passport
–
Document size – Plastic card
–
Document size – Magnetic card
–
Scan
Light source
LED (red, green and blue)

Maximum Resolution
600 dpi

Scan Resolution
150 x 150dpi, 200 x 200dpi, 300 x 300dpi, 400 x 400dpi, 600 x 600dpi

Scanner Element
CIS

Scanner Type
Desktop sheet-fed scanner

Scanning Modes
Black and white, Error diffusion, Advanced Text Enhancement, Advanced Text Enhancement II (for Windows only), 256-level gray, 24-bit colour

Scanning Side
Simplex / Duplex

Scanning speed
A4 / LTR, Portrait, 200dpi:
Black and White: 25ppm (simplex) / 50ipm (duplex)
Grayscale: 25ppm (simplex) / 50ipm (duplex)
Colour: 25ppm (simplex) / 50ipm (duplex)
Suggested Daily Volume (Scans)
1500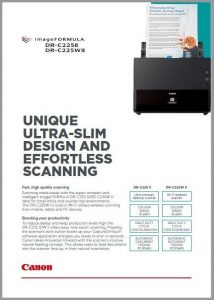 Product Catalogue PDF file : 
CANON Document Scanner imageFORMULA DR-C225II
1.06MB
(You need to install Acrobat Reader to open the PDF files.)