Canon Colour Multi-Function Copier - iR ADV C5235 (Refurbished)
MORE POWERFUL. YET SIMPLER.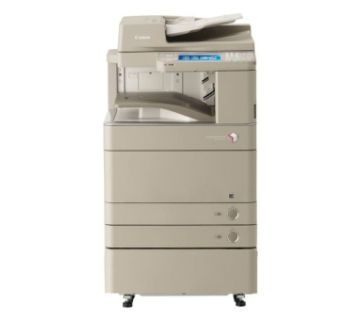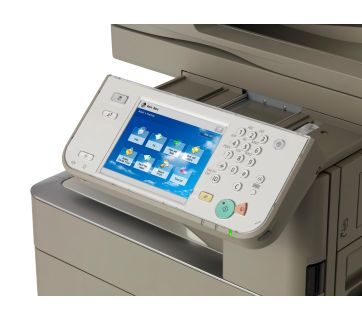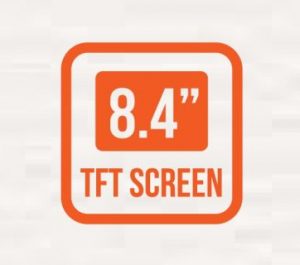 You will notice the large, full-color 8.4" high resolution TFT screen that boasts wide viewing angles and exceptional clarity. The Main Menu gives you instant access to all your system functions, letting you configure the number and size of icons, and even the wallpaper on the menu screen. You can even tailor it to suit individual or workgroup preferences. Quick Menu allows you to accomplish more in less time by streamlining complex, frequently used settings and workflows to be saved and run at the touch of a single button.
High Resolution Brilliant Printouts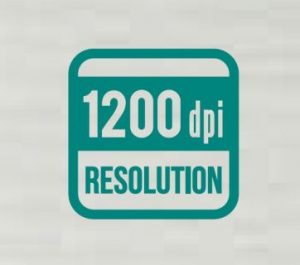 Combine the E-drum imagePRESS technology with a 1200×1200 dpi printing resolution, you get highly defined printouts, image consistency and high speed printing.
Matched with the pQ Toner and an intelligent controller, the imageRUNNER ADVANCE C5235 truly brings you the crispest, most vibrant color printouts.
ADVANCED imageCHIP System Architecture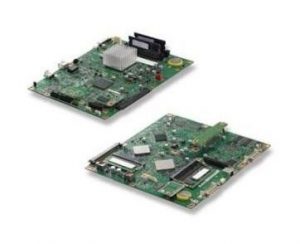 Canon's dual processor system meets the rigorous demands of today's businesses. The image processor board works with the scanner, adjusts images and provides superior image processing. In tandem, the information processor controls the user interface and coordinates device networking and connectivity. Together, they give you better results with lesser wait.
Maintain Your Productivity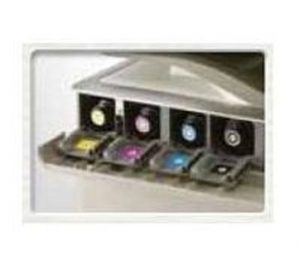 The imageRUNNER ADVANCE C5235 is designed to keep your business going. Our innovative toner system allows you to change out toners even during printing.
The inbuilt paper sensor is also intelligent enough to detect paper sizes accurately, reducing paper jams and misfeeds.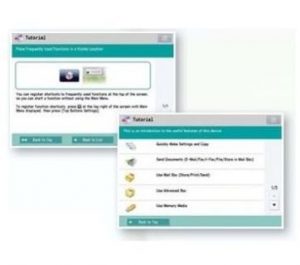 The inbuilt onscreen tutorial helps you explore the full capabilities of the imageRUNNER ADVANCE C5235, and enables you to learn and use more advanced functions with ease.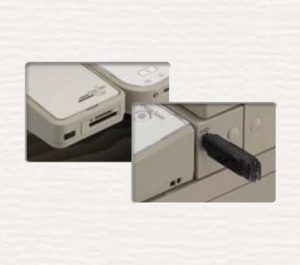 The imageRUNNER ADVANCE C5235 comes with a USB port that lets you scan to or print* files directly from your USB drive or memory card at the device.
* Optional accessories are required for print.
Canon Colour Multi-Function Copier iR ADV C5235/C5240/C5250/C5255 Specifications
Type
Reader-Printer Separated, Desktop
Maximum Original Size
A3
Copy Sizes
Cassette
305 x 457mm, A3, A4, A4R, A5R, B4, B5, B5R
Custom Size 139.7 x 182mm to 304.8 x 457.2mm
Optional Envelope Feeder, No.10 (COM10), Monarch, DL, ISO-C5
Stack Bypass
A5R – SRA3 (320 x 450mm), Envelopes
Custom Size 99 x 140mm to 320 x 457mm
Resolution
Reading
600dpi x 600dpi
Copying
600dpi x 600dpi
Printing
1200dpi x 1200dpi (text/line only)
Copy/Print Speed
A4 (B&W/Color)
C5255: 55/51ppm
C5250: 50/45ppm
C5240: 40/35ppm
C5235: 35/30ppm
A3 (B&W/Color)
C5255: 28/26ppm
C5250: 28/26ppm
C5240: 20/18ppm
C5235: 20/18ppm
Magnification
Zoom
25-400%
First Copy Time
Black & White
3.9sec (C5255/C5250), 5.4sec (C5240/C5235)
Full Color
6.0sec (C5255/C5250), 8.1sec (C5240/C5235)
Warm-Up Time
31 seconds
Multiple Copies/Prints
1 to 999 sheets
Duplexing
Standard automatic stackless
Paper Weight
Cassette
52 to 220gsm
Stack Bypass
52 to 256gsm
Paper Capacity
Standard
550 sheets x2 cassettes (80gsm)
Stack Bypass : 100 sheets (80gsm)
Optional
550 sheets x2 cassettes (80gsm)
Paper Deck
2,700 sheets (80gsm)
Total Capacity
5,000 sheets
CPU
1.66GHz
Memory
Standard: 2GB RAM Maximum: 2.5GB RAM
Hard Disk Drive
Standard 160GB (Available Disk Space: 15GB)
Maximum 1TB (Available Disk Space: 629.2GB)
Interface Ethernet
(1000BaseT/100Base-TX/10Base-T)
Wireless LAN
(IEEE802.11b/g, Optional), USB2.0
Power Supply
220-240V AC, 50/60Hz
Power Consumption
1.8kW max (C5255/C5250), 1.3kW max (C5240/C5235)
Dimensions (W x D x H)
Only the Main Unit: 620mm x 700mm x 800mm
With the Duplex Color Image Reader Unit-E1: 620mm x 715mm x 950mm
With the Color Image Reader Unit-F1: 620mm x 712mm x 931mm
With the Color Image Reader Unit-F2: 620mm x 700mm x 831mm
Weight
Only the Main Unit: Approximately 139kg
With the Duplex Color Image Reader Unit-E1: Approx. 153kg
With the Color Image Reader Unit-F1: Approx. 148kg
With the Color Image Reader Unit-F2: Approx. 144kg
Print Specification
PDL
UFRII (Standard), PCL 5c/6 (Optional), Adobe PostScript 3 (Optional)
Resolution
1200dpi x 1200dpi (Text/Line only), 600dpi x 600dpi
Memory
2GB (Uses Main Unit RAM)
Hard Disk
Standard 160GB (Available Disk Space: 15GB)
Maximum 1TB (Available Disk Space: 629GB)
CPU
Canon Custom Processor, 1.66GHz (Uses Main Unit CPU)
Supported OS
PCL
Windows 8.1/8/7/Vista/XP/Windows Server 2003/Server 2008/Server 2012
Adobe PostScript 3
Windows 8.1/8/7/Vista/XP/Windows Server 2003/Server 2008/Server 2012/Mac OS X 10.5 or later
UFR II
Windows 8.1/8/7/Vista/XP/Windows Server 2003/Server 2008/Server 2012/Mac OS X 10.5 or later
Mac-PPD
Mac OS 9 (9.1 or later), Mac OS X (10.3.9 or later)
Interface
Ethernet (1000Base-T/100Base-TX/10Base-T)
Wireless LAN (IEEE802.11b/g, Optional), USB2.0
Network Protocol
TCP/IP (LPD/Port9100/WSD/IPP/IPPS/SMB/FTP), IPv6, IPX/SPX (NDS, Bindery), AppleTalk
Pull Scan
Network TWAIN Driver
(75 to 600dpi 24bit Color/8bit Grayscale/2bit Black & White)
Send Specification (Standard)
Scan Resolution
100 x 100dpi, 150 x 150dpi, 200 x 100dpi, 200 x 200dpi,
200 x 400dpi, 300 x 300dpi, 400 x 400dpi, 600 x 600dpi
Destinations
E-Mail/Internet FAX (SMTP), PC (SMB, FTP), iWDM, WebDAV
Address Book
LDAP, Local (Max.1800)
File Format
TIFF, JPEG, PDF, XPS, High compression PDF/XPS, PDF/A-1b, Optimize PDF for Web
Color Image Reader Unit-F1 (2-sided Double pass ADF)
Paper Size
A3, B4, A4, A4R, B5, B5R, A5, A5R, and B6
Paper Weight
Single sided original
42 to 157gsm
Double sided original
50 to 157gsm
Max. Number of Originals
100 sheets (80gsm)
Document Scanning Speed
Copying
1-sided scanning: 46 sheets/minute
(A4 in Black & White/Full Color at 600dpi)
Scanning
1-sided scanning: 51 sheets/minute
(A4 in Black & White/Full Color at 300dpi)
Dimensions
(W x D x H) 565mm x 540mm x 137mm (feeder and reader)
Weight
Approx. 7.5kg (feeder and reader)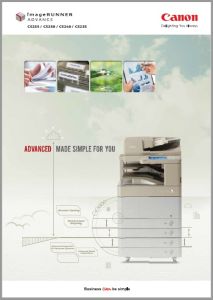 Product Catalogue PDF file : 
CANON Colour Multi-Function Copier iR ADV C5235
1.69 MB
(You need to install Acrobat Reader to open the PDF files.)