Accelerate Your Digital Transformation with the New Canon imageRUNNER ADVANCE (iR-ADV) DX C5800i Series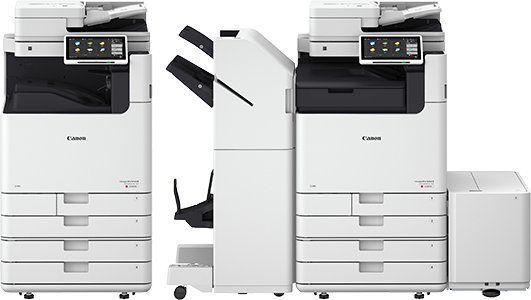 SHAH ALAM, 28 April 2021 – Canon Marketing Malaysia ("Canon") announces the launch of their new imageRUNNER ADVANCE (iR-ADV) DX C5800i series today, a state-of-the-art range of A3 colour laser multi-function devices (MFDs) that is specially designed to help businesses looking to accelerate digital transformation (DX). As the workplace is becoming more fluid, and hybrid working is a new reality, this latest offering helps companies to effectively drive their DX to the next level. With robust security and flexible cloud connectivity, the new iR-ADV DX C5800i series enables unrivalled productivity in office and remote locations.
"Technology is a powerful tool to support this hybrid reality. As companies embrace more flexible and location-agnostic work models, they will be looking for solutions that would promote agile collaboration between departments within the office or remotely. At Canon, we know there is no "one-size-fits-all" solution that works for every company. That is why we are constantly diversifying our portfolio to cater to every unique need," said Masato Yoshiie, Senior Director of Business Imaging Solutions Centre at Canon Marketing Malaysia. "Through the iR-ADV DX C5800i series businesses can digitise efficiently, collaborate in the cloud securely and create a sustainable work environment that is productive and safe.
Efficient Collaboration in the Hybrid Workplace
An essential part of a hybrid workplace is data accessibility. The new iR-ADV DX C5800i series offers swift digitisation with an industry-leading scan speed of up to 270 images per minute and works seamlessly with uniFLOW Online, a cloud-based print management solution to transform physical documents into digital data fast and intelligently. One of the key features of the solution, Filling Assist uses pre-configured workflows to scan, name, convert, fill and route documents to various cloud destinations. The whole automated process eliminates time-consuming and error-prone manual filing for greater productivity and collaboration. On top of that, the series is also embedded with uniFLOW Online Express, a cloud-based solution that tracks device usage and secure against unauthorized access with device authentication that helps reduce print wastage.
Robust Protection for Data Security
As digital workflows increase, so does the demand for stronger endpoint security. From documents, networks to devices, customers can enjoy peace of mind, knowing their information is protected at every stage of the document workflow. The iR-ADV C5800i series is equipped with a wide range of security features, including the Trusted Platform Module (TPM) 2.0 which safely encrypt critical data stored on the MFDs, and complies with Common Criteria (CC) Hardcopy Devices Protection Profile (HCD-PP) certification, an international evaluation standard for information security. For better protection against malicious attacks, the series is also furnished with McAfee Embedded Control to effectively block unauthorised applications and prevent tampering of existing firmware.
Safer and More Eco-Friendly Workspace
In light of the on-going pandemic, minimising surface contact is at the top of mind. With the Canon PRINT Business App, in-office workers can perform contactless operations on the iR-ADV DX C5800i series. Through their personal smartphones, workers can access the user interface of MFDs and process jobs without even touching the MFDs. In addition to workplace safety, the series helps businesses drive sustainability with eco-friendly fusing technologies and sleep mode features to lower power consumption, upholding Canon's commitment to implementing good practices that protect the environment.
The latest imageRUNNER ADVANCE DX C5800i series is available now (April 2021) at authorised Canon dealers. Learn more about this new generation of smart MFD via Canon's website.