Canon Wins the BLI 2022 A3 Line of the Year Award from Keypoint Intelligence and, for Fourth Consecutive Year, the BLI Pick Award for Outstanding Cloud Output Management Solution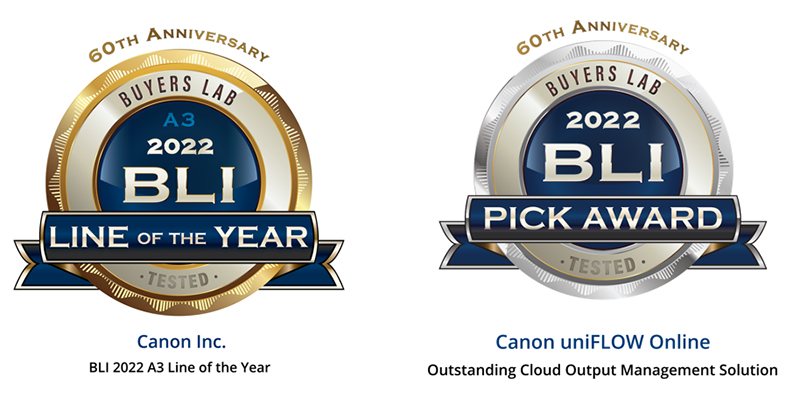 SHAH ALAM, 11 February 2022 – Canon announced today that it has won the coveted Buyers Lab (BLI) 2022 A3 Line of the Year Award as well as the BLI Pick Award for Outstanding Cloud Output Management Solution from Keypoint Intelligence, the world's leading independent provider of testing services and analytical information to the document imaging industry. The BLI 2022 Pick Award marked the fourth consecutive year that Canon's uniFLOW Online received an outstanding cloud output management accolade.
"We are truly honoured, once again, to be presented with the BLI A3 Line of the Year Award, and the Pick Award for Outstanding Cloud Output Management Solution in recognition of our innovation efforts," said Mr. Masato Yoshiie, Senior Director, Business Imaging Solution Centre, Canon Marketing Malaysia. "The wins reaffirm Canon's commitment to delivering reliable devices and practical solutions to businesses operating in these changing times. We will continue to meet the requirements of today's hybrid work environments by combining the best of our technologies and constant innovation."
BLI 2022 A3 Line of the Year Award
Deemed best overall based on rigorous lab evaluations, Canon's range of A3 multi-function devices, the imageRUNNER ADVANCE DX series earned the highest overall rating from Keypoint Intelligence. To determine the overall quality of the product line, analysts took into consideration the ratings in many key areas, including reliability and usability.
"Canon has assembled an excellent lineup of A3 MFPs that deliver exceptional performance and have the same well-designed touchscreen that boosts productivity even more," said Pete Emory, Director of Research & Lab Services US/Asia at Keypoint Intelligence. "Not only has Canon won big with multiple BLI Winter 2022 A3 Pick Awards[1] and this BLI 2022 A3 Line of Year Award, the company completed the incredible hat trick by earning the BLI 2022-2024 Most Reliable A3 Brand Award[2] – all during this same awards cycle. It is clear that Canon has an A3 MFP for any customer, and it is also clear that users can rely on Canon A3 MFPs to get the job done accurately and efficiently."
BLI Outstanding Cloud Output Management Solution Pick Award
Recognised as one of the most impressive solutions evaluated by Keypoint Intelligence during the previous 12-month test cycle, Canon's cloud-based print management solution, uniFLOW Online proved its ability to help businesses track and control print, scan and copy activities from different environments effectively through a single platform in the cloud. Supporting hybrid work environments through frequent updates, uniFLOW Online enables remote and in-office users to work with additional cloud solutions, automate scanning process while protecting valuable business data.
"For the fourth time in as many years, Canon's uniFLOW Online is taking home a BLI Award for Outstanding Cloud Output Management Solution," said Lee Davis, Associate Director of Software/Scanners at Keypoint Intelligence. "The solution's continued success should not come as a surprise, as Canon has been continually upgrading and improving the solution, ensuring that customers have access to the latest output management capabilities available."
###
About Keypoint Intelligence
For 60 years, clients in the digital imaging industry have relied on Keypoint Intelligence for independent hands-on testing, lab data, and extensive market research to drive their product and sales success. Keypoint Intelligence has been recognized as the industry's most trusted resource for unbiased information, analysis, and awards due to decades of analyst experience. Customers have harnessed this mission-critical knowledge for strategic decision-making, daily sales enablement, and operational excellence to improve business goals and increase bottom lines. With a central focus on clients, Keypoint Intelligence continues to evolve as the industry changes by expanding offerings and updating methods, while intimately understanding and serving manufacturers', channels', and their customers' transformation in the digital printing and imaging sector.
About BLI Line of the Year Awards
Line of the Year Awards salute the companies that provide a broad range of hardware or software and whose products consistently performed above average throughout testing. Much consideration is also made by Keypoint Intelligence analysts and technicians in areas such as ease of use, features, and value, across an entire portfolio for that product area, with the end result being the most prestigious Buyers Lab Awards offered.
About BLI Document Imaging Software Pick Awards
Buyers Lab Document Imaging Software Picks stand alone in the industry and are hard-earned awards as they are based on rigorous testing, including evaluation of key attributes such as features, usability, and value. Each product that passes its Keypoint Intelligence lab test earns a Platinum, Gold, Silver, or Bronze rating, with the best performers qualifying as Pick contenders.
About Canon Marketing (Malaysia) Sdn. Bhd.
Canon is a global leader in photographic and digital imaging solutions. Canon Marketing (Malaysia) Sdn. Bhd. was established in 1987 to deliver products and services support to Malaysian users directly and through its nationwide channel partners. The parent company Canon Inc. has a global network of more than 300 companies and employs close to 200,000 people worldwide. It is dedicated to the advancement in technology and innovation and commits more than 8% of its total revenue each year to R&D.
Under the slogan "Business Can Be Simple", Canon aims to reduce complexity by simplifying workflows and empowering customers with effective and easy to use solutions. As a Fortune Global 500 company, Canon is guided by its Kyosei philosophy that focuses on living and working together for the common good.
1 Keypoint Intelligence press release
2 Keypoint Intelligence press release
More information is available at https://asia.canon